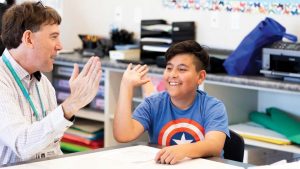 MTC's tutoring program provides individualized attention to students, assisting our local schools in meeting students' unique needs. Tutors support their students by working with them directly on the specific areas where they are struggling. Each year, MTC places volunteer tutors in Los Altos and Mountain View schools, from kindergarten through 8th grade.
MTC's Remote Tutoring Program is designed to support K – 8th grade students during this unique school year and beyond. While distance learning creates a variety of challenges for schools and parents, MTC is providing much-needed additional academic support. The Remote Tutoring program meets the needs of students at various grade levels and range of learning styles. Currently, the program offers:
One-on-one tutoring: Tutors work directly with a student on a desired subject, typically math or language arts. This program is delivered via an easy-to-use online tutoring platform.
Book Buddies: Tutors will read with younger students or discuss more advanced literature topics with older students. This program can be delivered via an easy-to-use online tutoring platform or simply over the phone!
The online platform used by MTC allows tutors to engage students in a fun and interactive way. All MTC volunteer tutors receive training!
While we all look forward to the day that kids can safely return to school, we are confident that the remote program will be a new innovative offering that will serve our community into the future.