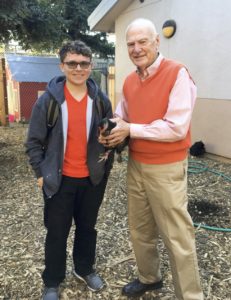 Intergenerational relationships between adolescents and older adults are a win-win. According to Rita Hitching, MTC Board Member and founder of Teenbrain, teenagers who have a relationship with an older caring adult demonstrate greater empathy and willingness to help others, have higher self-esteem, and are more positive in their outlook. And, older adults who interact with youngsters feel less isolated and lonely, and live longer.

We often hear this echoed by MTC volunteers.  Tutors get satisfaction from seeing a child grasp a new concept. One tutor recently said, "It is such a joy to see a student improve." Mentors also feel enriched by their mentees in many ways. "Mentoring is always a journey of learning for me and my mentees," says one mentor. "Plus, connecting with young people keeps you young!"
Research shows that this is right! Adults who interact with students are fitter and more active and try things they may not have otherwise tried. Whether exploring a new app or trying new foods with a student, exposure to youth culture is energizing and rewarding. These intergenerational relationships broaden our connections and sense of belonging, providing social and emotional well-being for both parties.