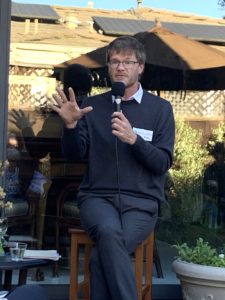 On May 18, MTC's major donors gathered for a conversation with William Blair, Wellness Coordinator for the Mountain View Los Altos (MVLA) High School District. During the interview with MTC Executive Director, Carol Olson, Blair shared that the pandemic's impact on the mental health of students is significant, and that mentors play a critical role in supporting students through the stress and isolation.
The impact of the pandemic and the role of mentors
"I can't stress enough how essential it is that young people have a caring adult in their life," he begins. "Having that safe space for young people to talk openly, to be seen, to be heard—where they can ask whatever question they have in a nonjudgmental space—is really essential for our young people. And that's what caring adults do." Blair described the often-isolating nature of our society. He tells us that the proverb, "it takes a village," remains true, but that many young people lack access to any proverbial village. Instead, they tend to rely on the internet and their peers for essential advice. Many young people choose not to, or are unable, to breach important topics with loved ones. Now, William argues, is a pivotal time to provide them the perspective of caring adults.
Blair explained that prior to the COVID-19 outbreak, the Center for Disease Control was already reporting increased rates of anxiety, depression, suicidality, and substance abuse among young people. Unfortunately, rates of mental illness have risen considerably during the pandemic. In response, the MVLA high school district has built a "crisis support network" which includes hiring numerous therapists and creating partnerships with social services agencies. The pandemic informed the district's philosophy about student support. "When the water is calm, let's teach you how to row the boat," he says. "Let's put a caring adult in the boat alongside you or at least on shore. Let's give you everything you need to be successful so that when the rocky waters hit, there is a caring adult you can reach out to."
Supporting wellness to unlock academic success
Intense preoccupation with GPAs and college admittance had been negatively affecting student mental health prior to the pandemic. Blair saw that the pandemic actually allowed many of us to step back from this obsession momentarily. "We focused on supporting students through the crisis," he said. However, it didn't take long for the rigors of school to return, and now we are facing that same intense stress with a student population that hasn't had the opportunity to develop socially due to asynchronous education. That social development is an integral part of their education, he explained.
Blair explains that although schools are academic institutions, young people are more than just academics. He wants us to consider how we may, as a community, encourage and value the development of students' other goals, interests, and identities, while ensuring that academic success remains paramount. He explains that the school district wants to build in preventive support. They want to teach students extracurricular skills that will help them in all aspects of their lives, including academics. He believes that these tools are incredibly valuable, and it is often through the guidance of caring adults that they can be taught.
"Once we teach our young people how to be more resilient, how to prioritize sleep and exercise, how to build relationships and establish connections with others, and how to step back and have perspective, it actually unlocks their academic potential."
Tutoring supports student wellness
Blair explains that what makes MTC's Tutor Program special is the connection that tutors form with their students. He believes that younger children often see learning as a final product rather than a process due to the manner in which they are taught and graded. "True learning, however," he shares, "is about progress." Young minds develop at their own pace, and for this reason it is important for caring adults to help them no matter where they are academically. "It is a powerful moment for a young person to feel that they are being seen where they are and to feel supported. Having that experience builds self-efficacy and resiliency." Blair believes these are traits that are often lacking in later years, and so having this support lays a foundation for high school success.
"It is in the name: Mentor Tutor Connection. It is all about the connection," he says.