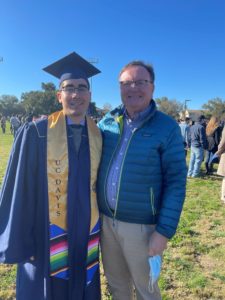 Barry Groves remembers the day he met Edgar, an eighth grader at Crittenden Middle School at the time. "From that first time I saw him, I always made him promise to invite me to his college graduation," he says. Edgar also remembers that day and considers it a significant turning point. "I felt lucky, because I knew he really wanted to help me with my dream of making my mom happy by graduating college." Last spring, Edgar realized that dream and graduated from UC Davis. "I could not have been prouder of him when they called his name as one of the graduates," says Barry.
Edgar values the role Barry has played in his life, especially during the critical years of high school. "Having a mentor like Barry by my side is the reason why I was able to graduate from college," he says. Today, Edgar works at Meta (formerly Facebook), serving as a program manager trainee. In the long-term, he hopes to help others get into the tech field.
From Barry's perspective, being a mentor has been one of the most satisfying experiences of his life. Early on, he understood that Edgar was a great kid who could benefit from some guidance in navigating the public school system. "Like all of us, he had his ups and downs," Barry remembers. "I tried to be there to listen, especially during those down times."
Now, Barry considers Edgar a good lifelong friend.  "He has brought joy into my life as I have watched him on his life's journey," he says. "Everyone should be a mentor," he adds.