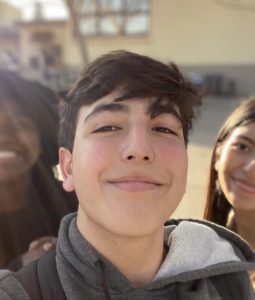 "Being a mentee this year has been a great experience! This is the first time I've ever had a mentor and I've loved it so far. My whole life I've always been scared to talk to adults who weren't in my immediate family, but this experience has really helped open me up and improved my social skills with all adults in my life. My mentor and I really clicked once we met. It's been really nice to have someone I can talk to regularly about my own life and his.  As a student who is very busy with leadership on campus and has a heavy course load, I really appreciate those mentoring sessions where I can just talk about what is going on in my life outside of school and have somebody to listen to me. I feel like I have another support system that is outside of my family and school".
"Having a mentor this year has really helped encourage me to take on more leadership roles on campus, that is why I've applied to a lot more programs and am running for leadership positions. I really appreciate having my mentor in my life and have valued all our conversations. It's just been an all-around positive experience and I encourage ALL students who are thinking about applying to apply."
Romeo has been heavily involved with the Latino Student Union since his freshman year at Los Altos High School. He has held many leadership roles such as activities coordinator, publicity officer, and student representative on the school site council.  He is also involved in student leadership as an outreach associate, and is part of the AVID program and Stanford's SMASH summer academy, programs meant to aid first-generation low-income students of color on their journey to college. Additionally, he has been a mentor in the Jumpstart Mentor Program for the past two years. Jumpstart is a program created to help incoming freshmen acclimate to high school.
Romeo and his mentor, Russ, worked closely through a challenging year and look forward to new opportunities for spending time together in the coming year.