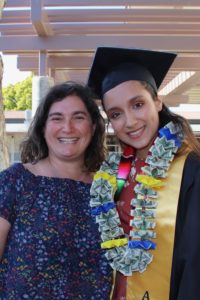 MTC is now on the social media map thanks to former mentee Andrea Halsted. Andrea graduated from MVHS in 2018 and is currently a communications major at Foothill College. Eager to apply her social media skills to a local nonprofit, she was challenged with finding the right fit. Fortunately, her search included a regular meet-up with her former high school mentor and current MTC Tutor Program Manager, Jocelyn H. Saiki, and a social media internship was born.
With her critical and discerning perspective towards social media, Andrea is helping MTC refine its online presence and increase visibility to potential volunteers and supporters. She created a plan to post relevant and timely content to engage followers, and tracks analytics. "Having Jocelyn as a mentor was one of my favorite high school experiences. She really helped me in so many ways and I feel that more students should know about MTC's mentoring program. I really love the program and wanted to leverage my social media knowledge to connect more people with MTC," said Andrea.
Andrea regularly presents at MTC mentor training events to share her experience and the impact of having a mentor in her high school years. She also tutors her 6 and 10 year old cousins, all while holding her full course load and a part-time job.
"Andrea has consistently demonstrated an outstanding commitment to her studies, her community, and her family," said Jocelyn. "Our time together as mentor-mentee quickly evolved into a friendship. She's so kind, smart and every minute I get to share with her brings me joy because I know the future is bright with students like Andrea in the world."
Andrea will be transferring to a UC in the fall as a communications major. Not only is the internship providing an opportunity for Andrea to apply her social media skills to a worthy cause, MTC is growing to new heights as well.
Follow MTC on Instagram and Facebook @MentorTutorConnection.