Relationships matter in this time of joy and giving
Jenny and Emily bonded instantly when they were matched two years ago. They immediately found that they had much in common –  a mutual interest in education, shared family birthdays, and a similar style.
Initially Jenny wanted a mentor so she could try new things and get a new perspective on questions she had. Those desires were filled when she was matched with Emily. Prior to the pandemic, Emily and Jenny enjoyed getting out weekly to nearby parks – hiking, walking and talking in a stress-free environment.  Jenny could bring up anything that was on her mind and Emily listened and shared her thoughts.  Sometimes they went on more extensive outings to San Francisco where they hiked Angel Island.  Their weekly outings formed the basis for their relationship.  
Emily and Jenny have brought joy into each other's lives. Emily shared her love of art with Jenny when they visited museums and even took an art class together. Jenny says, "I had never been to an art class and was curious.  I finished with a new appreciation for artists and thought it was really fun."  Jenny has shared her culture with Emily, inviting her to her quinceañera, which was very meaningful to both of them.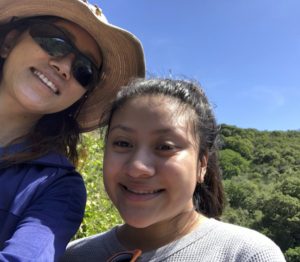 Since the pandemic started, Jenny and Emily have kept in touch remotely. Emily continues to inspire Jenny. "Before having Emily my life, I felt success meant owning a lot of stuff.  Now, it means being happy with what you do as well as being the best version of yourself." Jenny always knew she wanted to go to a 4-year college, however she wasn't sure if it was achievable..  She says, "Emily gives me advice about college and what I can do to make my dreams come true."   Jenny is also inspired when Emily discusses how much she loves her job.  "She is so passionate when she talks about it and I aspire to be as passionate as she is when I have my own career."

For Emily's part, she feels getting to know a young person at this level is a privilege.  They come from very different backgrounds, yet they share many things.  During this giving season, it's a nice reminder that we all can find joy in giving and sharing with each other.