• Mission: Mentor Tutor Connection aims to help build brig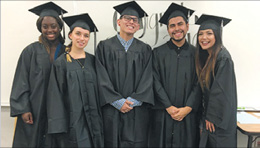 hter futures for youth in Mountain View and Los Altos through tutoring and mentoring programs that improve social and academic life skills.
• 2016 update: Mentor Tutor Connection's new executive director, Padma Gargeya, came aboard Nov. 1. Linda Eckols, MTC board chairwoman, said Gargeya's experience with Bright Futures – a nonprofit organization similar to MTC that serves students in East San Jose – should serve her well; Gargeya went from mentor to mentor coach to the leadership team there.
MTC is exploring collaborations with other groups, starting with the YMCA of Silicon Valley in Mountain View, scheduled to host an open house in January to recruit volunteers.