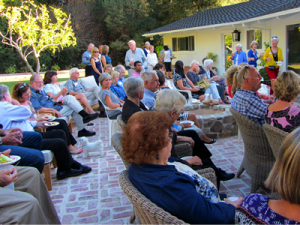 Almost 50 Mentor Tutor Connection volunteers, donors, administrators, staff and Board Members gathered on Monday, September 15, at the home of Bart Nelson to usher in the school year.   As guests mingled in the spacious backyard enjoying beverages, appetizers, and conversation, it was clear that excitement was in the air.
MTC Board Chair, Sally Meadows, kicked off the program with an overview of the process leading to our name change and new logo. Partners for New Generations has been rebranded to Mentor Tutor Connection to better reflect what we do and whom we serve.  Sally jokingly suggested a $2 fine each time anyone slipped and used our former name or acronym instead of "MTC."
Craig Goldman, Superintendent of the Mountain View Whisman School District and Bobby Taylor, Officer with the Mountain View Police Department, shared individual stories of their experience of the impact of Mentor Tutor Connection.  One shared a story of a child tutored in elementary school and running into him later in high school as a successful youth with plans for college, and the other shared how important the role of a mentor can be in the lives of teenagers.
Also introduced during the program were our Mentor Coordinators, (Leslie Schwarz, new at AVHS, Claudia Hevel, LAHS, Carole Dorshkind, MVHS), our Tutor Coordinators (Linda Eckols, elementary schools and Anu Wadhwa, middle schools), as well as Audrey Fox, MTC's Programs Administrator.
A slideshow of photos from the event is available at mentortutorconnection.org/2014/09/15/back-to-school-2014/.