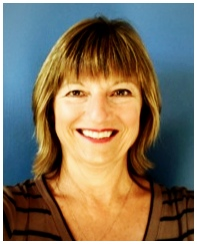 We are thrilled to introduce our new Alta Vista High School Mentor Coordinator, Leslie Schwarz. Leslie joined our team this month and has been busy preparing for the start of school.  Her initial focus will be on getting to know students and mentors in existing matches, and meeting with new students who may join the program. She is excited about supporting matches and helping them be as successful as possible.
Leslie has a B.S. in Business Administration/Marketing and a second major in Spanish from San Jose State. In 2009, she received an MBA from St. Mary's College. Prior to joining MTC, Leslie worked in the high-tech industry in marketing and sales for over 15 years. Since leaving the tech world, she has volunteered as a tutor for pregnant women recovering from alcohol and drug addictions and also tutors Spanish at all grade levels.
Leslie first joined us as a mentor in 2004 and has mentored several students over the years.  She helped one of her students with applications for scholarships enabling her to attend college at Hispanic University. This student has since graduated from college and they continue their relationship to this day, a measure of a truly successful match.
Inspired by the satisfaction she felt while mentoring, Leslie is looking forward to making a contribution as the AVHS Mentor Coordinator.  Welcome Leslie!