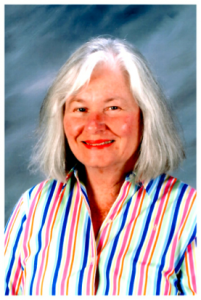 Linda Waud will retire at the end of this school year after thirteen years with Partners for New Generations. She was PNG's first employee and was instrumental in helping expand PNG's services from tutoring-only to include mentoring at Alta Vista High School. PNG's mentoring program has since grown to include all three high schools in the MVLA High School district.
The PNG mentoring program helps about 75-80 high school students each year and many of the mentor-student pairs stay in touch for many years beyond graduation. Linda has matched many such long-lasting, successful relationships during her years with PNG at Alta Vista HS.
Bill Pierce honored Linda at the Los Altos Rotary Club's PNG Volunteer Recognition Luncheon on May 8, 2014 with these words: "Her genuine love of people have made her a perfect mentor coordinator. She has matched about 400 students with mentors at Alta Vista. She will be greatly missed."
She offers this advice to mentors and others considering becoming a mentor:
"You have this chance to change the world and it is being given to you on a silver platter. Don't pass it up. Most of the mentors that come into the program are expecting to help a student but they find that they are so significantly impacted by the students that the mentors themselves are the ones who get the real benefit. When you change one person, the family changes, their children change, and thus the world is changed."
Linda is retiring at the same time as her husband to oil paint and be open to whatever comes her way. We wish her the best and thank her for all the lasting relationships she has facilitated over the years.