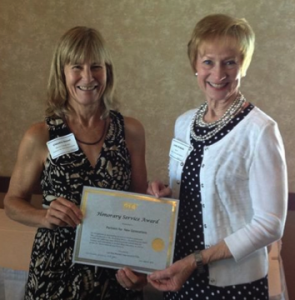 On May 12, 2014, the Los Altos Mountain View PTA Council honored PNG as one of two community organizations to receive the Honorary Service Award. The Los Altos Mountain View PTA Council is comprised of all PTA units within the Los Altos School District, the Mountain View-Whisman School District, and the Mountain View Los Altos High School District.
This honor was bestowed upon PNG at the Council's Annual Luncheon and end-of-year celebration held at Michael's at Shoreline. This event is held to recognize recipients of the Ardis Egan Scholarship, retiring teachers and staff, outgoing and incoming PTA Officers for each unit, and recipients of the 2014 Honorary Service Awards.
The Honorary Service Award (HSA), which is sponsored by the California State PTA, is given to individuals or organizations in special recognition of outstanding service to children and youth. The HSA Award winner is identified by the PTA Council as an individual, or organization, who have stepped out of their own school setting to impact kids across our entire community. Claudia Hevel, Los Altos High School Mentor Coordinator, and Linda Eckols, PNG Board member and Elementary Schools Coordinator, accepted the award on behalf of PNG.