Last month PNG received the following handwritten note from a most generous Los Altos 3rd grader: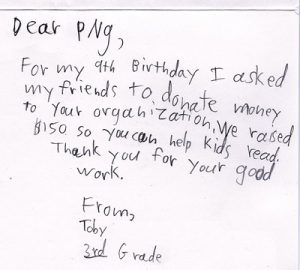 Our over 150 volunteers have many different reasons for volunteering their time to help kids in the Mountain View and Los Altos school districts. But for the most part, these can be summed up in just one word… inspiration! Through his example and selfless contribution, Toby inspires all of us at PNG.
So Toby, on behalf of PNG and all of the kids we serve, we say… Thank You!